As an ambitious entrepreneur, you're always doing more.
More of the latest tips and tricks

Productivity hacks, color-coded to-do lists, willpower to get shit done

More of what you see on Instagram

Overnight successes, vision-board-worthy vision boards, selfies from a Yoga retreat in Bali

More hours, more work, more money?

Checking your email at a 2am pee break, saying Yes to a meh client, Leaning In and "having it all"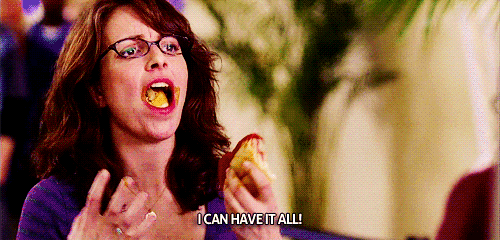 At Mindful Productive, Less is….Better

-less clutter on your to-do list
-less pressure to do all.the.things
-less productivity-induced anxiety
-less absolutely no hustling

I know this is making your inner A+ student uncomfortable. So I'll write you a permission slip: slow your roll.

Why go slow?
Our cultural work ethic is obsessed with chasing more, moving fast, and, hell, even breaking things.

But it seems like the main thing we broke is ourselves. It's no wonder we're the Burnout Generation!

We've acted as though this compulsion to work more was our birthright. It's led not only to employees who work double shifts to impress their bosses but also to entrepreneurs who work 'round the clock to impress everybody (Take that 2nd grade English teacher!).

Something's gotta give. Because without some change in the right direction, we're going to be closing down shop on our unsustainable businesses.

If I could do less in my business and still succeed, wouldn't I have tried that already?
I hear you, savvy skeptic.

As a recovering workaholic, I didn't even know there was an alternative to the daily grind.

But now, I believe in doing less in order to do the essential. Because what's the point in doing more when it's never enough?

Through mindfulness and intentional action, we can focus on the small, impactful steps that lead to sustainable success. It's like get shit done….without the bullshit.

Wait, who are you?
I'm glad you asked. This was getting awkward. Let me sum up my life for you in 9 random facts.

1. I'm a musician turned yoga instructor turned mindfulness and productivity coach.

I first tried yoga and meditation in grad school, hoping to find a "cure" for performance anxiety (aka Stage Fright). Mindfulness worked wonders for my sweaty palms, shaky knees, and obnoxious inner critic as a violist, so I started applying it to other parts of my life, too.

2. I'm a Doctor (of Musical Arts)

Speaking of school, I earned back-to-back-to-back Bachelor's, Master's, and DMA degrees in Viola Performance. I followed this path as the perfect student, often practicing 5+ hours per day (plus classes, group rehearsals, and gigs).

This was in pursuit of the big dream: a job as a music professor or professional orchestral musician. But when grad school ended, there were no. jobs. (Hey Millennials, tell me if you've heard that one before….)

So if you're a fellow, former A+ student who's now trying to unlearn all those "good student" habits, hit me up. We can start a support group!

3. I have an identical twin!

So if you see me playing the bass in LA, that's not me. Or is it….? (Twin trickery, it's fun – just like in the movies!)

4. I'm a proud Cat Dad

I have a handful of uniquely bizarre and lovable cats (admit it: that's #squadgoals). Here's Sadie lounging on a screened-in patio.

5. I'm a recovering Productivity Hacks junkie

I once had a Trello, Asana, Google Calendar, and Bullet Journal operating at the same time….disaster!

I still love reading and thinking about habits, goals, and productivity, but I've had to put my own mindful spin on it (for my own sanity!).

6. Catch me outside

No, I'm serious. I really like being in nature (even in brutal San Antonio summers…). My favorite activities are trail running, bird watching, and taking leisurely hikes with my wife Megan.

7. I love self-care, but hate how it's become just one more thing to fail at

See above: I love running. But I used to hate it when I forced myself to schedule every run's distance, time, and pace weeks in advance.

See also: all those Instagram posts telling you that you can cure what ails you with 30 minutes of daily meditation. Um, I'm a meditation teacher and some days the thought of sitting for more than 30 seconds makes me wanna pull my hair out.

These days, I just do whatever feels good for me in the moment: walking, baking, and paying someone else to trim my beard for me so that I don't have to.

8. I don't always complete my to-do lists

And I'm finally comfortable with that!

9. Food: let's talk about it

Did I save the best for last? You bet I did.

In my own kitchen:
Baking bread
Making coffee
Pretending that I'm a bartender while perfecting a lemon twist
On my bookshelf:
Salt Fat Acid Heat
America's Test Kitchen: Bread Illustrated
The Secrets of Baking
Out and about:

Local coffee shops, breweries, and bakeries
Breakfast tacos (I'm a Texan, what do you expect?)
Pizza….always pizza.
Welp, now you know almost everything about me! If you're curious about how we might work together, click on over to this page.